EQset ensures flat response across the entire frequency range
Random Sample of Production Line Microphones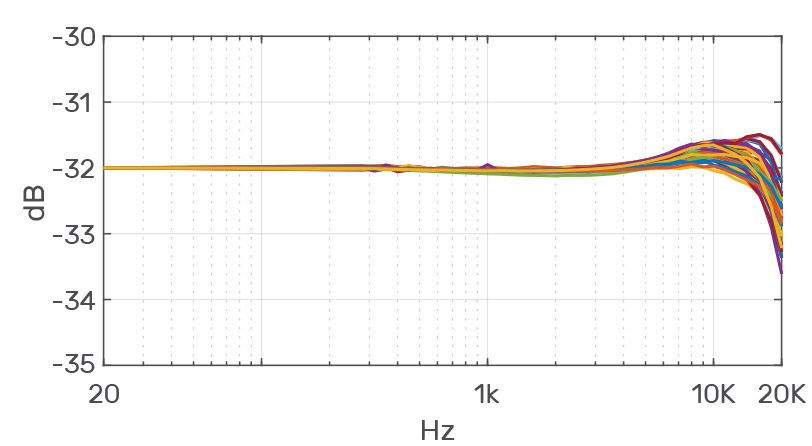 EQ 40PM
With EQset technology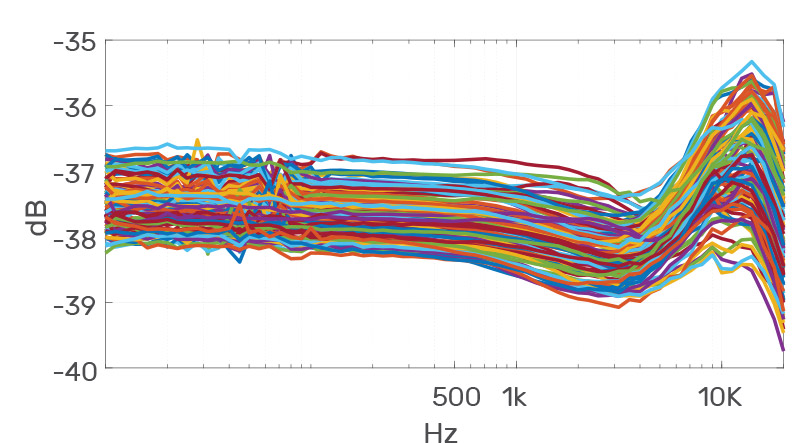 Standard production line microphones
Without EQset technology
NEW EQset™ Technology
Learn how EQset with its fixed sensitivity and flat response curve will simplify your Production Line setup and data acquisition
EQset is the latest innovation landmark by GRAS. This new technology, never seen in Production Line or Measurement microphones before, enables a microphone with a preset gain, also referred to as fixed sensitivity, and a flat response. Providing engineers with high workflow efficiency as well as high measurement accuracy. Furthermore, all GRAS micophones with EQset technology are fully backwards compatible, and are rigorously tested according to GRAS standards.
Fixed Sensitivity
Sensitivity variation between individual microphones varies less than 0.2 dB from nominal sensitivity. Historically, microphone sensitivity have a ±2 dB spread.
Flat Frequency Response
Response variation across the full frequency range is less than 0.5 dB. Historically, microphone response variation across the full frequency is ±2 dB.
---
NEW ¼" Production Line Microphone
Explore the GRAS EQ 40PM microphone with EQset technology

The Most Cost-efficient Production Line microphone in the market
The EQ 40PM is a short 20 kHz pressure microphone with a dynamic range from 30 dB (A) to 120 dB and the same dimensions (34 mm long) as traditional Production Line microphones.
This new range of microphones is ideal for entry level test settings with focus on cost efficiencies while adhering to industry standards.
Since the EQ 40PM is a high-volume microphone, it can be delivered as individually or in packs of 12 or 24 units. The EQ 40PM can be powered by CCP or by using phantom power (a convenient power source on an audio card).
Angebot anfragen
Kontaktformular
Anrufen